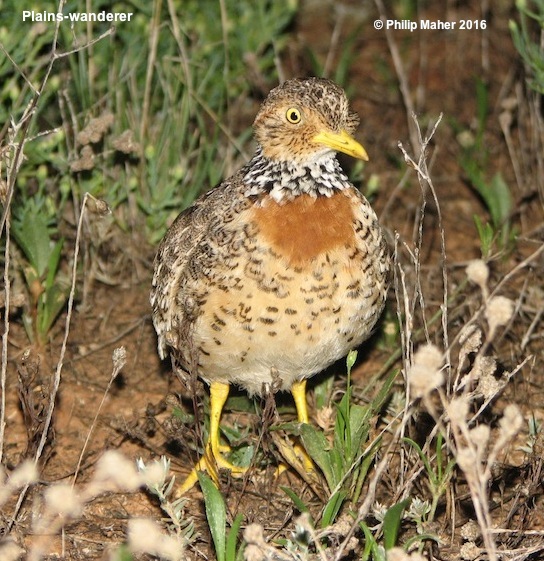 Australian Ornithological Services
Philip Maher and Patricia Maher have run birding tours since 1985 (Inland Bird Tours). They are based in Deniliquin, in the southern Riverina district of New South Wales, three hours north of Melbourne Airport.
Patricia and Philip formed Australian Ornithological Services Pty Ltd in 1994. AOS Pty Ltd is a birding tour company that serves the keen birder. Philip and Patricia are world renown as the go-to people for Plains-wanderer. The Plains-wanderer belongs to a family of one and most birders chasing families contact AOS. Deniliquin, on the fringe of the outback, has a variety of habitats including the mighty redgum forests and the vast Hay Plain.
AOS runs private birding tours in the Deniliquin area http://www.philipmaher.com/personal.htm and advertised plains-wanderer weekends. See the website for this year's Plains-wanderer weekend dates.
We also run a biannual Central Coast of NSW tour taking in Barren Grounds for Eastern Bristlebird and Ground Parrot, Royal National Park for Rock Warbler and Chestnut-rumped Heathwren and Gloucester Tops NP for Rufous Scrub-bird, among other species. See website for Central Coast of NSW itinerary.
Meet the Guide
Hosts: Philip & Patricia Maher Australian Ornithological Services P/L
Address: P.O. Box 385 South Yarra Victoria 3141
Phone: 03 9820 4223 (Int. +61 3 9820 4223)
Mobile: 04 1731 0200 (Int. +61 4 1731 0200)
Email: enquiries@philipmaher.com
Website: www.philipmaher.com