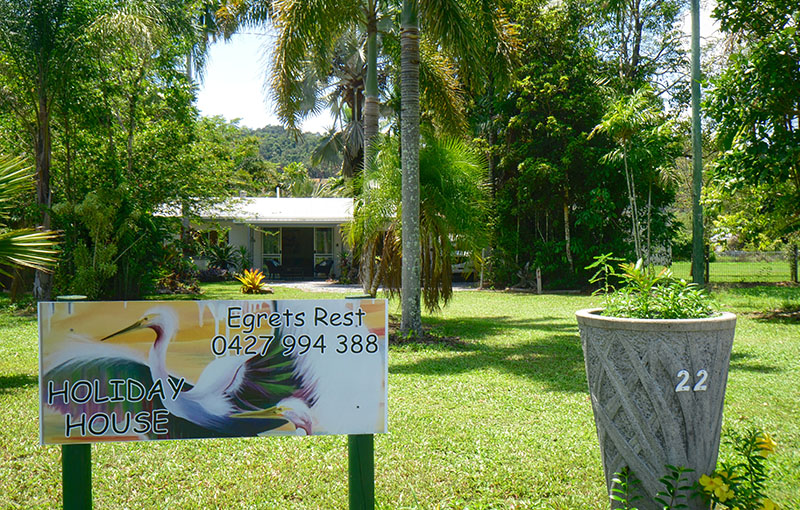 Egret Rest, Daintree
Egrets Rest – Daintree birdwatching accommodation in the heart of the Daintree Village is owned and operated by enthusiastic birdwatchers with good local birding knowledge and is currently a river guide on the Daintree River.
Egrets Rest is a modern self-contained house it can accommodate up to 6 guests with the 2 x Rooms with Queen size beds and 2 x rollaway beds if required upon request. It has a tropical garden and is home to the Curlews,  Wompoo Fruit Dove, Emerald Dove, Gould's Bronze Cuckoo, Double-eyed Fig Parrot, Azure Kingfisher, Laughing Kookaburra, Forest Kingfisher, Yellow-spotted, Dusky, McLeay's and Graceful Honeyeaters, Yellow Oriole, Black Butcherbird, Mistletoe bird, Yellow-bellied Sunbird and many more. Seasonal variations include, at various times of the year, Red-necked Crake, Pied Imperial Pigeon, Channel-billed Cuckoo, Buff-breasted Paradise Kingfisher, Dollarbird, Rainbow Bee-Eater, Leaden and Satin Flycatchers, Spangled Drongo, Black-faced and Spectacled Monarchs, Victoria's Riflebird, Spotted Catbird, Blue-face Honey Eater  and Metallic Starling, Also you can find a Brahminy Kites and Whistling Kites nesting in this area and on an evening you'll see some of the many 2500 Egrets flying home to roost over the Daintree River. 
Egrets Rest is within walking distance of the beautiful Daintree River and a 10 min drive to the World Heritage Daintree National Park. (free return ferry passes available for guests) Excellent birdwatching opportunities, either escorted or independent, in a well-known birding area. Expert birdwatching river cruises available locally either an early morning or sunset river cruises with very knowledgeable guides which is within walking distance of your accommodation. On the river you may see the Papuan Frog mouths, Great billed Herons, several species of egrets, jabirus, and bird of prey and azure kingfisher, jewel kingfisher white tailed kingfisher, spotted whistling ducks it's a true bird lovers delight.
Meet the Hosts
Host: Kathleen Smith
Address: Daintree River
Mobile: 0427 994 388 (Int. +61 427 994 388)
Email: kathsmith2468@gmail.com