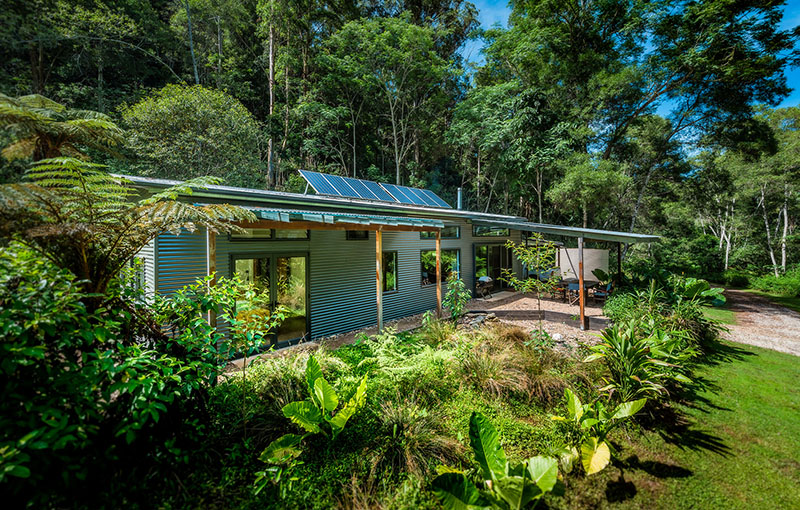 Girralong Rainforest Retreat
Girralong Rainforest Retreat is a 100 Hectare conservation property comprising sub-tropical rainforest and wet-and-dry eucalypt forests. It is hidden away in a secluded valley adjoining the Juugawaarri Nature Reserve, 50 minutes inland from Nambucca Heads, northeast New South Wales. The property has an abundance of wildlife including numerous threatened species. Over 120 bird species have been recorded to date and most of the east coast subtropical rainforest and wet forest species can be readily seen from the house and along 500m forest drive.
There is a simple yet elegant solar powered house with large picture windows, 3 bedrooms comfortably accommodating 6 people. There is a spacious open-plan lounge/dining area and a fully-provisioned kitchen, and a covered veranda with great views across the rainforest.
This is a place you can easily relax on the veranda and simply enjoy the peace of the bush and the abundant bird life. For the more adventurous you can visit the tranquil waterfalls upstream, walk off track and explore the majestic forest and discover its diversity of animals and plants. You can also explore an extensive network of tracks in the adjoining Juugawaarri Nature Reserve and New England National Park. Visit our website for more information www.girralongrainforestretreat.weebly.com.
Meet the Hosts
Host: Graeme & Dani
Address: 2938 North Arm Road, Girralong NSW
Mobile 1: 0429 091 783 (Int. +61 429 091 783)
Mobile 2: 0415 090 200 (Int. +61 415 090 200)
Email: girralongretreat@gmail.com