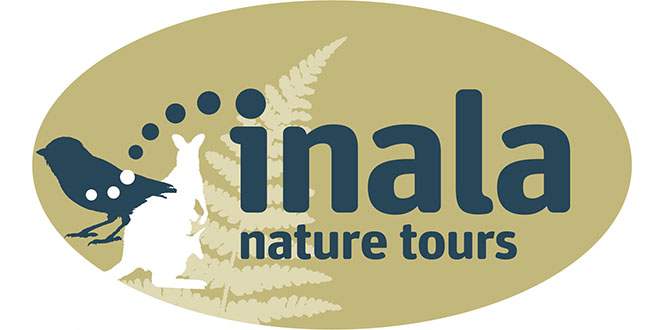 Inala, Bruny Island
All of Tasmania's 12 endemic bird species can be seen when you stay at INALA COUNTRY ACCOMMODATION. Owned by a birder and run for birders, this 1500 acre (600 ha) "Land for Wildlife" sanctuary is the home of Inala's founder Dr Tonia Cochran, and the base for Inala Nature Tours, a licensed birding/nature tour operator that have been designing and leading birding/nature tours in Australia for more than 26 years. Inala offers cottage-style accommodation on the property, and a stay gives you access to all of the reserve's walking tracks, hides and viewing platforms. The cottages are nestled in tall eucalypt forest at the foot of the verdant South Bruny Ranges, on Bruny Island, Tasmania. Eighty percent of the reserve is native vegetation. In addition to the 12 endemic birds of Tasmania, a further 90 species have been recorded at Inala. 150 species have been recorded on Bruny Island, which is classified as an Important Bird Area.
Inala is committed to preserving and creating habitat for the Forty-spotted Pardalote and Swift Parrot, both endangered species. Inala is home to one of the largest known colonies of Forty-spotted Pardalote, and an important breeding area for the Swift Parrot and Grey Goshawk. These species, together with a large number of other birds are very likely to be found around your cottages. In addition to so many of Tasmania's unique birds, Inala is also home to a variety of wildlife and interesting plants. The best way to see the birds and wildlife on offer is to enjoy a guided tour of the property and/or Bruny Island with a specialist bird guide, which Inala can organise for you.
Guests have a choice of a lovely three bedroom cottage (Inala Cottage) or a one bedroom spa unit (Nairana Cottage). The cottages have TV, DVD, broadband internet access, microwave oven, washing machine, clothes dryer, gas heating and electric blankets. They also have fully-equipped kitchens for self-catering, although meals can also be arranged on request. Guests are encouraged to explore Inala during their visit and a complimentary bird list and map of the property are also provided.
Meet the Host
Name: Dr. Tonia Cochran
Address: Inala Nature Tours, 320 Cloudy Bay Road, South Bruny Island TAS AUST 7150
Phone: 03 6293 1217 (Int. +61 3 6293 1217)
Email: inala@inalanaturetours.com.au
Website: www.inalanaturetours.com.au
Travel Industry Designator Service code: TAS 149; TIDS 96-8 2885 2