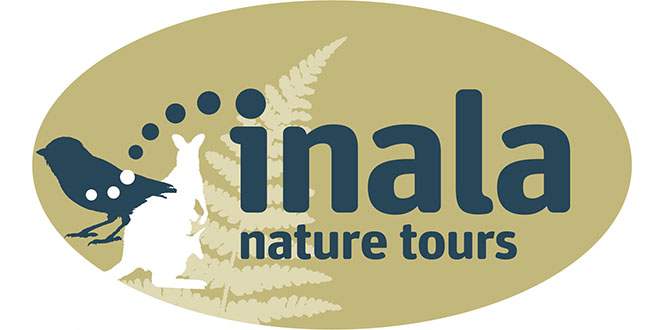 Inala Nature Tours
INALA NATURE TOURS is a bespoke travel consultancy with over 26 years' experience in designing and organising tailor-made Australian birding and wildlife tours for individuals, groups, and international travel companies. Itineraries are designed by the owner of the company, Dr. Tonia Cochran, who is a qualified biologist and birder with many years of field experience as a guide and tour leader throughout Australia. Tonia draws on her wide-ranging academic and teaching background, her knowledge of Australian fauna and flora, field experience and a large network of local experts to maximise guest's birding and wildlife experiences.
A wide selection of excellent birding and nature tours are available, ranging from short visits to Bruny Island (including night excursions) to comprehensive customised tours, both around Tasmania and in every Australian state. Our small group tour portfolio offers comprehensive tours spanning the Australian continent and beyond, with many of our tours run back-to-back allowing you to create your ideal combination. Explore our website for full itineraries and detailed tour information.
Tours are also led by specialist local guides, some of whom work exclusively for Inala. These guides are chosen for their depth of natural history knowledge; particularly birds, wildlife and flora. They know where to find sought after species, have a passion their vocation and know what it takes to make their tours interesting and enjoyable for guests.
Inala operates from a 1500-acre (600 ha) conservation covenanted "Land for Wildlife" sanctuary on Bruny Island – Tasmania, which is Dr Cochran's home and the office base of Inala Nature Tours.  About ninety percent of the reserve is native vegetation, with a diversity of different communities present, including all 12 endemic bird species and several other threatened or endangered bird species, endemic orchids, and a 5-acre Jurassic Garden which shows the familial relationships between plants of different continents.  Inala is also home to many hand-raised orphaned wildlife such as Tasmanian Pademelon, white-morph Bennett's Wallaby, Eastern Quoll and Brush-tailed Possums.  Most of the income raised by Inala Nature Tours goes into conservation projects and ongoing management of the reserve, which receives little external funding.
Meet the Host
Name: 
Dr. Tonia Cochran
Address: Inala Nature Tours, 320 Cloudy Bay Road, South Bruny Island TAS AUST 7150
Phone: 03 6293 1217 (Int. +61 3 6293 1217)
Email: inala@inalanaturetours.com.au
Website: www.inalanaturetours.com.au
Travel Industry Designator Service code: TAS 149; TIDS 96-8 2885 2